LIVE: The Glitterati plus King Lizard – Upstairs at The Garage – 11/07/09
---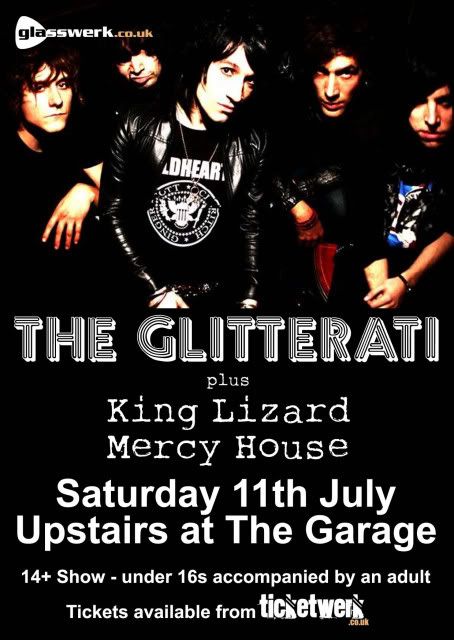 It has to be said, the omens are not great for tonight's gig – a rainy Saturday night, a venue that's only just reopened after many years, no tube, and no replacement bus either. The power of rock can conquer all, but can it conquer London's tendency to stay at home when it rains?
Well, kind of. While not being rammed, there's a healthy crowd in attendance as King Lizard hit the stage some time after eight (apologies to Mercy House, I missed you, but I heard good things), with trademark swagger and shades. Ever the showmen, untamed by the rare position of supporting act, the Lizards fire off a 30 minute set of well-oiled strutting glam metal, getting the audience fired up nicely, adding a bit of a Michael Jackson tribute segued nicely in the middle of live favourite Outrageous. I'm not so sure about the 'Scatman Flash' interlude to cover the amp failure during Never Be Mine, but hey, you've got to keep the audience's attention somehow.
Less strutting perhaps, but no less cocksure, are the resurgent Glitterati. After a long absence from the toilets and dives of London town, and a few lineup changes, The Glitterati are finally on the cusp of releasing their second album, Are You One Of Us?. Opening with a few oldies as a reminder, tonight sees the London debut of some of this new material, and it fits almost seamlessly from where the first album left off. Tracks like Too Many Girls are a promise of prime bar room rock and roll still to come – sleazy but not in creepy way, hook-laden but still hard rocking – and also show that Gautrey and Co have lost nothing of their good time vibe.
Sadly, constrained by a 10pm curfew (hey, the big corporate industry manchine has to protect its club night revenues you know), we're all done here at ten to, and the crowd disperses to find the next bar. A good start to Saturday night, and proof if it were needed, that The Glitterati are back and as strong as ever.
---